Body Brushing

Support Detoxification and Cholesterol Transport
Dry Skin Brushing Helps to
Stimulate and increase the blood flow to your skin which is your largest organ of detoxification
Move lymph fluid towards the lymph nodes to improve elimination
Open your skin's detox pathway
Improve the vitality of your skin and improve overall body detoxification
Transports cholesterol around the body to the liver
Dry Brush before you get into the shower and before going to bed
Follow the direction and pattern of the strokes in the images. Brush toward the heart and groin areas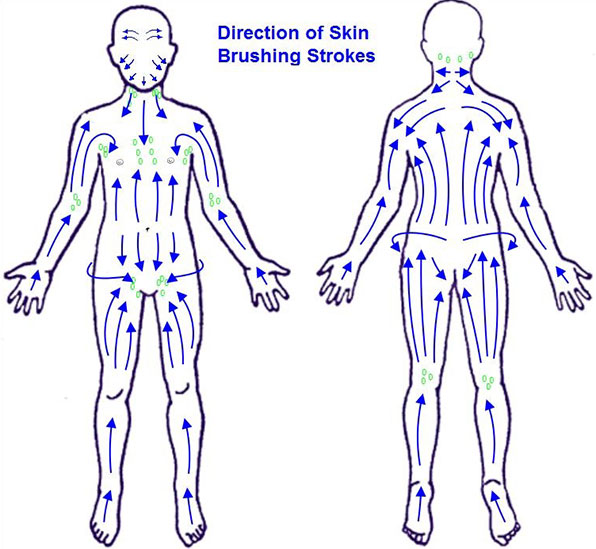 The Lymphatic system
You may have heard of Lymph Nodes when the are swollen in the neck and armpits. Lymph is a fluid in our bodies that is essential for the healthy functioning of the Immune System
The purpose of lymph drainage massage is to move the lymph fluid out of your tissues into lymph nodes where bacteria, viruses and other harmful microorganisms are destroyed. It reduces swelling, inflammation and pain and it is deeply relaxing.
Our vascular or blood system is pumped around the body by the heart. The image shows the lymphatic system which unlike the blood system does not have a heart-like pump.
The Lymphatic System has to rely on exercise or movement of the surrounding area for the lymph vessels to circulate, collect, and filter the lymph fluid.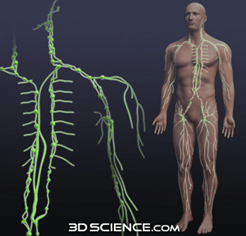 Benefits of Lymphatic Massage or Drainage
Stimulate and increase the blood flow to your skin which is your largest organ of detoxification
Move lymph fluid towards the lymph nodes to improve elimination
Open your skin's detox pathway
Improve the vitality of your skin and improve overall body detoxification
Improving Large Intestine Lymphatic System
How to do it
It may be uncomfortable but should not be too painful.
Rub gently but firmly along the outside and inside of your legs. Along the lines marked in black
Rub upwards towards the direction of the heart
It can be followed by an Epsom Salt Foot bath or bath to aid detoxification.